Polyter® Revolutionizes agriculture
The shortage of water, and not the lack of land, as one would think, will be in the coming years the main constraint on Agriculture, 70% of all water used each year in the world goes irrigation produces 30 to 40% of global crops on 17% of all arable land. Polyter® is a new efficient management practice of our water heritage and participating in integrated projects for sustainable development and environmental protection, including in the process a social and economic aspect.
The world is suffering from bloody conflicts because of the scarcity of water in some areas. Polyter®, thanks to its impressive water savings comes as a response to these issues for better water management to ensure food security.
While the invention has taken place, it is to share it with the greatest number of men and women worldwide. Polyter® was established for 20 years and in over 70 countries! Today we have the real answer, to increase food security.
THE RESULT OF MATURE REFLECTION

Philippe OUAKI DI GIORNO , A Life science enthusiast.
Today, we have the real answer to increasing food security in the world.
JURY HATCH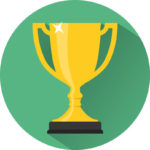 Philippe OUAKI DI GIORNO, born on 13 July 1958 in Tunis has always been a fan of the plant. Since very young, he always been asking himself many questions about the living. One special question haunted him literally, why in our lifetime, we cannot admire the tree that we planted while we were young, grown big And majestic , this interrogation remained for several years, fled in his unconscious. It is only after studying agronomy, plant physiology and horticulture that he found his answer by creating an invention called Planetoid, in reference to humanoids of science fiction.
This invention has the power to create centuries-old trees in a few months and wins in 1991 at the Salon Hortimat in Orléans a special prize created especially for this invention that subjugated the profession and the horticultural World award named "Hat trick of the Jury" handed To Philippe OUAKI DI GIORNO from the hands of Mrs. Elisabeth GUIGOU.
TOPIARY DISNEY with Polyter®
The main basis of this invention is the creation of a specific active material to develop for this particular application an aberrant root mass which is twenty times greater than the root mass of traditional plants.
Very quickly, it was obvious that the root mass multiplier active ingredient developed by Philippe OUAKI DI GIORNO was more important than the application for the invention of Plantoids.
This is why Philippe OUAKI DI GIORNO has worked for almost a year of research to reduce the increase in root mass, no longer to twenty times but to five times greater than a traditional root mass, this is very important to be able to make this active ingredient usable in agriculture. After reaching an optimum result, P.O.D.G Development was created in early 1992 and this active ingredient was named Polyter… Very quickly, the use of Polyter confirmed its efficiency to save more than 50% irrigation water and save nearly 30% of fertilizer input and treatment products while saving more than 50% electricity on the operation of crop irrigation pumps while increasing the yield by 50%.
Many countries have used the Polyter successfully, such as Morocco, United Arab Emirates, France, Switzerland, Spain, Vietnam, Senegal, Ivory Coast, Cameroon, Madagascar and many others